Live Your Star Wars Adventure in a Galaxy Far, Far Away
PLEASE NOTE: Reservations are required to visit Star Wars: Galaxy's Edge between May 31 and June 23, 2019. Capacity for Disneyland Park, Star Wars: Galaxy's Edge and its experiences is limited. Access to the park, land and experiences may be restricted or unavailable depending on guest demand and other factors.
Millennium Falcon: Smugglers Run – Opening May 31, 2019!
Fly the Millennium Falcon on a thrilling interactive smuggling mission.
Take Control of the Fastest Ship in the Galaxy
Ride in the famous cockpit of the Millennium Falcon on a daring flight—and whether you're a pilot, engineer or gunner, every role is crucial.
The engines rumble as the Millennium Falcon blasts off, pushing you and your crew back into your seats when you jump into hyperspace towards adventure. Along the way you'll face danger at every turn.
Will your mission succeed or fail? It's up to you—find out if you have what it takes to outmaneuver the odds aboard the Millennium Falcon. Get ready to punch it!
On-the-Job Training Provided
Never flown a starship before? Hondo Ohnaka is looking for discreet flight crews to deliver a backlog of hard-to-find items to particular clientele—no experience necessary!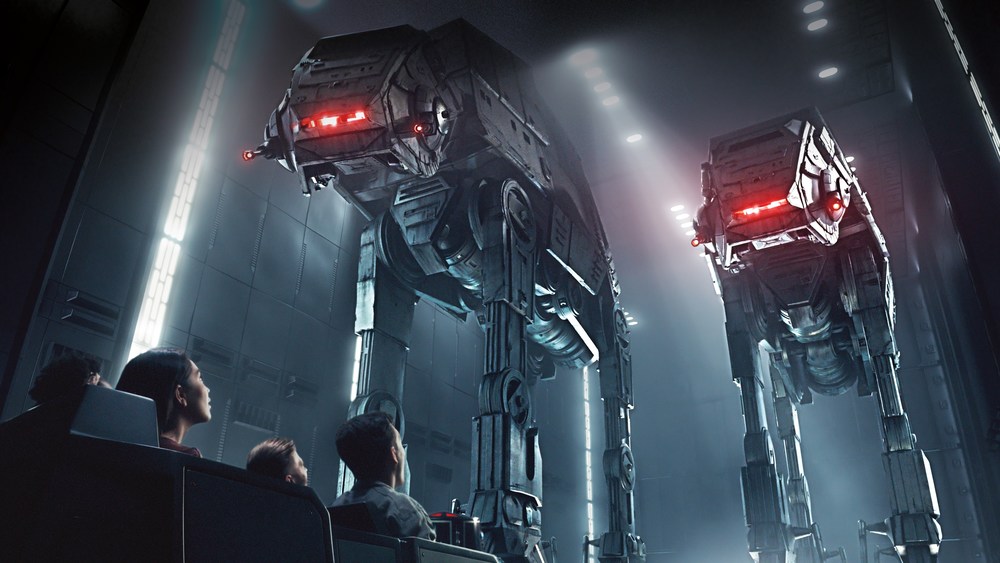 Opening Later this Year – Star Wars: Rise of the Resistance
Join the Resistance in a climactic battle against the First Order!
Oga's Cantina – Opening May 31, 2019!
Step inside this notorious local watering hole to partake of unique concoctions for all ages.
Thirsty for a Taste of Adventure?
Welcome to the local cantina, where bounty hunters, smugglers, rogue traders, and weary travelers of all ages come together to refuel, enjoy music, and conduct meetings—no questions asked. With an expansive menu of exotic concoctions for young ones and adults, the cantina is a welcome rest stop before your crew's next galactic journey.
As you plan your next smuggling run, please enjoy some bold musical entertainment courtesy of droid DJ R-3X, a former Starspeeder 3000 pilot. The cantina adheres to proprietor Oga Garra's strict code of conduct, but patrons can be… unpredictable, so just keep your head down—and drink casual.
For those who have long dreamed of visiting one of the galaxy's most infamous watering holes, Oga's Cantina brings that dream to life.
Explore a Galaxy of Unusual Offerings
Oga's specializes in fantastical drinks sourced with ingredients from across the galaxy and enticing concoctions that will delight even the youngest crew members.
To order selections with alcohol—like the Jedi Mind Trick cocktail, Bad Motivator IPA or Toniray wine—they will need to see your identification.
Know Before You Go
Guests over 21 will need to show a valid photo ID to purchase alcoholic beverages.
.
Milk Stand – Opening May 31, 2019!
Quench your thirst with a cup of Batuu's legendary blue or green treat, served frozen.
Docking Bay 7 Food and Cargo – Opening May 31, 2019!
Hungry travelers can fuel up on galactic grub at this local eatery in 'Star Wars': Galaxy's Edge.
Savi's Workshop – Handbuilt Lightsabers – Opening May 31, 2019!
Customize your own legendary lightsaber and become one with the Force.
Droid Depot – Opening May 31, 2019!
Build your own droid at Black Spire Outpost's machine-driven depot.
Toydarian Toymaker – Opening May 31, 2019!
Browse handcrafted toys and collectibles at this whimsical workshop in 'Star Wars': Galaxy's Edge.
Dok-Ondar's Den of Antiquities – Opening May 31, 2019!
Shop for mysterious and unique galactic artifacts collected by a legendary antiquities dealer.
Creature Stall – Opening May 31, 2019!
Discover curious creatures and critters from across the galaxy—and take home a new friend.
Black Spire Outfitters – Opening May 31, 2019!
Outfit yourself for galactic adventures at the colorful apparel shop in 'Star Wars': Galaxy's Edge.